The Prescott Pops Symphony and Chorus are truly pleased to return to YCPAC, bringing you our valued audience, "The Sounds of the Season!"
After more than a year living with the devastation of a pandemic and altering our lifestyles to exclude many activities that give us joy, we are finally returning to a semblance of normalcy. Music - and most particularly LIVE music - is returning, bringing with it an excitement and pleasure at being able to perform (for us) AND spectate (for you).
It will be a jubilant reunion as the Prescott Pops Symphony comes together once again with our community and treasured audience for a 28th season of tremendous musical performances. Three concerts are scheduled season beginning with our perennial favorite holiday concert in December (always sold out), plus two more: our romantic Valentine's concert and a season finale in May. Maestro, Joseph Place has put together concert programs guaranteed to delight and entertain you!
 
---
POPS SEASON SUBSCRIPTIONS (ALL 3 CONCERTS):
$75/adult; $15/students under 18 (pay no ticket service fees)

POPS SINGLE TICKETS:
$25/adult, plus $3 ticket service fee (total of $28)
$5/students under 18, plus $1 ticket service fee (total of $6)
 
---
TICKET SALES TIMELINE: 
SEASON SUBSCRIPTION RENEWALS for all 3 concerts will be available beginning Tuesday, July 6, 2021 at 9:00 AM.  Current season ticket holders will have one month to renew their seats; pay no ticket service fees!  
NEW SEASON SUBSCRIPTIONS for all 3 concerts may be purchased beginning Monday, August 9, 2021 at 9:00 AM; pay no ticket fees!
SINGLE TICKETS will go on sale Tuesday, September 7, 2021 at 9:00 AM; ticket service fees apply.
---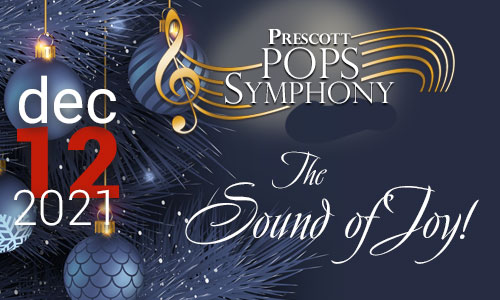 The Sound of Joy!
Sunday, December 12 | 3:00 PM
The holidays are not only a busy time of year but also filled with many opportunities to appreciate the wonders of beautiful music. Maestro, Joseph Place and Choral Director, Darrell Rowader join together in presenting the Prescott Pops Symphony and Pops Chorus in a musical celebration of traditional Christmas favorites. This season we're getting back on stage and presenting a program of classic carols and music that we all know and treasure. Brace yourselves for a delightful performance This concert is a Prescott tradition and always sells out, so get your season ticket today and guarantee your seat!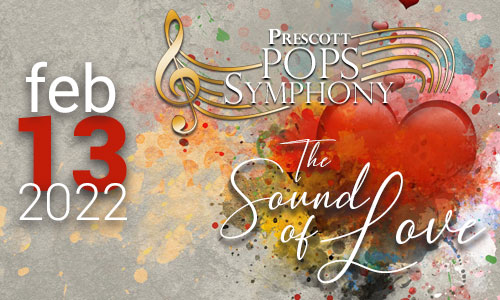 The Sound of Love! 
Sunday, February 13 | 3:00 PM
There is no mistaking the musical strains of love as it conjures feelings of passion, beauty, excitement. Snuggle up with your favorite person as the Pops and guest performers sing and play a variety of selections from Rachmaninoff and music of the theater, to styles ranging from traditional to jazz. We are so thrilled to feature the talents of special guest, pianist Dr. Kristie Janczyk for her first performance with the Prescott Pops. You will LOVE her as she joins us to help make this a most special Valentine's weekend!
Prescott Pops Picks!
Sunday, May 22 | 3:00 PM
Have you ever wondered what individual symphony musicians like to listen to or play when they're not in concert? Who are their favorite composers and what particular pieces of music do they love? Maestro Joseph Place brings you a return of the popular "Prescott Pops Picks" concert where pieces are selected by members of the orchestra. We will also feature some soloists from the orchestra. Get to know some of the players on a more personal level and enjoy their thrilling orchestral pops selections!  We promise you will enjoy a change of pace, some surprises, and a fun and entertaining afternoon of music enlightenment and joy.